The WRE2710-S is designed for commercial machine-to-machine (M2M) applications. The M2M cell signal booster maximizes connectivity; data comms & signal strength of telemetry systems that are unable to connect or maintain connected to the Carriers cellular network.
For telemetry systems located within inner metro areas or beyond the fringe of the network, the WRE2710-S is vital for real-time data collections & remote system monitoring.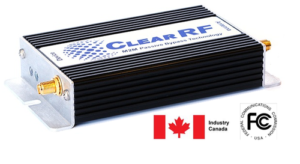 Network compatible: 2G, 3G, GSM, GPRS, CDMA, HSPA, WCDMA
Patented Passive Bypass Technology
Patented Auto Gain & Oscillation Control
Connects in-line with any cellular router, modem module or M2M system
All components needed for DIY installation included in kit
Boosts both cellular & PCS signals for all U.S. & Canadian cell carriers
FCC & Industry Canada Certified

WRE2710-S M2M Kit Includes:

15dB gain Cellular Signal Amplifier
2dBi Mag-Mount Antenna
AC Power Supply Cable
DC Power Pigtail Cable
SMA (M) to SMA (M) Jumper Cable
Owners Manual

Network compatible: 2G, 3G, GSM, GPRS, CDMA, HSPA, WCDMA
Frequency: 824-894 MHz / 1850-1900 MHz
Max RF output power: 27 dBm
Max RF input power: -20dBm
Nominal RF gain: 15 dB idle
Current draw @ 12V: 250 mA (idle) – 1 A (max)
Input voltage: +8.0 to 36.0V
Impedance: 50 Ohms
Dimensions: 4.9″ L x 2.7″ W x 0.92″ H
Weight: 226g / 0.5lb
Connector: SMA (F)
Operating temperature: -20C to +60C
Storage temperature: -30C to +70C
Relative humidity: 5% to 90% storage

This is a consumer device. Before use, you must register this device with your wireless provider and have your provider's consent. Most wireless providers consent to the use of signal boosters. Some providers may not consent to the use of this device on their network. If you are unsure, contact your provider. You must operate this device with approved antennas and cables as specified by the manufacturer. Antennas must be installed at least 20 cm (8 inches) from any person. You must cease operating this device immediately if requested by the FCC or a licensed wireless service provider.