The ClearRF WRE2700-S is a cell signal booster that maximizes connectivity (data comms & signal strength) of telemetry systems that are unable to connect or maintain connected to the Carrier's cellular network.
The WRE2700-S is a 3G cell phone signal booster, a 3G reception signal booster and 3G signal amplifier. The WRE2700-S can be used to boost the cell reception for machine to machine applications.
The WRE2700-S is for sale in Canada and Mexico only.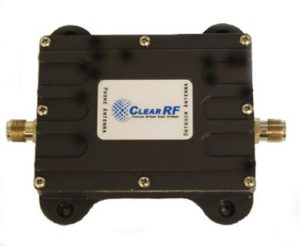 25dB gain bi-directional cellular booster
Connects in-line with any cellular router, modem module or M2M system
All components needed for DIY installation included in kit
Boosts both cellular & PCS signals for all U.S. & Canadian cell carriers

WRE2700-S M2M Kit Includes:

25dB Gain M2M Amplifier
2dbi Mag-Mount Antenna
AC/DC Power Adapter
Hardwire Power Adaptor Cable
Device Specific Connector Cable

Network Compatible: 2G, 3G, GSM, GPRS, CDMA
Gain: 25 dB Nominal
Frequency Range: 824/894 MHz – 1850/1900 MHz
Max Output Power: Uplink: 3W
Max Output Power: Downlink: .00003 mW (-45 dBm)
Current Draw @ 12VDC: Idle 350 mA, Max: 2 Amps
Power Requirement: 8 to 36 VDC (Negative Ground)
Connector: TNC Female  50 ohm
Dimensions: 4″ x 3.5″ x 1.25"
Weight: 2.2 lbs. (Kit)