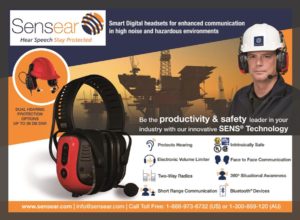 Teletics is excited to announce that we have partnered with Sensear, a global leader in developing and manufacturing best-in-class digital over-the-ear and in-the-ear headsets for use with two-way radio and Bluetooth communication devices.
Sensear's Intrinsically Safe products are powered by groundbreaking SENS high noise communication technology which enhances speech and suppresses dangerous background noise so workers can hear speech and stay protected in high noise environments.
Learn more about Sensear Intrinsically Safe headsets in our webstore.
Watch this video to see Sensear in Action: Oil Rig Engine Room