W*intercom™ wireless intercom for harsh environments and remote sites
Ready to go, out of the box or customize for your site!
Our W*intercom wireless intercom, phone & PA system is the third generation, built to provide reliable, Professional Grade wireless communications to harsh environments. W*intercom provides the following services:
Phone
Internet
LOUD ring / paging
LOUD PA (public address)
Where can you use W*intercom wireless intercom?
W*intercom has been designed to withstand extreme heat and extreme cold, dirt, grime and whatever else your harsh environment might be. It can be used in:
Chemical plants, in potentially explosive areas
Power plants, oil refineries
Drilling rigs, temporary work camps
Mines
Any type of similar industrial environment
Industry Application Note – Wireless Drilling Rig Intercom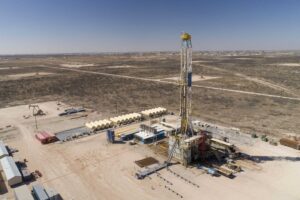 When you work in remote and rugged oilfields anywhere in the world, it is critical that your drilling rigs stay connected and in constant contact to the outside world. As well, you need to be able to communicate with each other, including having the ability to call out over a Public Address system to the entire rig and camp, for safety and drilling practices purposes.
Teletics w*intercom is a wireless rig phone and a wireless rig intercom system. It can be installed anywhere at a drilling rig site and because it is a wireless system, it can be easily moved as the drilling rig is moved.
W*intercom™ wireless rig intercom is built tough specifically for harsh environments and remote drilling sites from the Canadian Arctic to the southern states, including Texas, Oklahoma, New Mexico, Louisiana and many more. W*intercom™ wireless rig intercom can endure both extremely hot and extremely cold temperatures without compromising quality or reliability. Not only will you keep in contact with your team and keep them on task, but you can also be assured that with a Teletics w*intercom you've done everything possible for crew safety and productivity.
Teletics w*intercom is the answer for your rig intercom, wireless rig intercom, rig communications, wireless communications, remote phone system, loud PA, loud speaker, emergency alerting and emergency alert requirements. Read more in this application note: Teletics_Application_Note_Drilling_Rig_Communications
Teletics w*intercom an outstanding communication solution for rig intercom communications, for more information, please contact:
USA Sales:
Canada Sales
The W*intercom wireless intercom is Plug-n-Play
This wireless intercom system is designed for specifically for rapid installation by staff with minimal computer skills. It can be installed fast and taken down fast.
The w*intercom system works "right out or the box" and it provides integrators and service providers a robust "industrial grade" wireless intercom, phone, Internet, and public address platform which allows rapid field deployment combined with simple development of custom services and telephony options for field sites.
W*intercom wireless intercom provides SIP-compliant Phone Services
When installed with the W*intercom Feature Server, a full featured SIP server, w*intercom can allow outside calling, intercom, individual or group paging, and conference calling functionality. With our free of charge developer's kit, SIP integrators can even add other features or functions, or integrate third party devices into the system. Additional lines from outside can also be added using SIP trunking.
W*intercom offers easy integration with cellular, landline, VSAT and Inmarsat. Up to 20 locations on each site can receive Phone, Internet, Ring Relay, and LOUD Ring/Paging. Up to 4 locations can receive direct in/out dialing through the w*intercom Feature Server.

W*intercom is an Industrial Wireless PA System
Up to 20 locations on each site can receive Phone, Internet, Ring Relay, and LOUD Ring/Paging.  When we say loud, we mean LOUD: 40WRMS.
W*intercom datasheet
Feature Server Datasheet