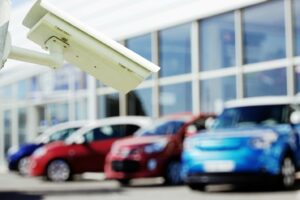 Do you need an easy solution to provide video surveillance at a car dealership or parking/car lot?
Teletics offers a truly easy to install solution to give connectivity to cameras that are placed outside away from where the standard internet connectivity is located. The Teletics ZipLine wireless bridge can be easily installed to provide a wireless link to an external building such as a car wash or a mechanics's shop or even just a post on the fence in your car dealership parking lot. ZipLine provides the missing link for a CCTV system that requires an Internet connection and / or simply an Ethernet connection.
Problem: No connectivity in a parking lot so a car dealership in Edmonton, Alberta couldn't put a security camera where it was needed the most. We helped a car dealership that needed to connect cameras on their fence so they could monitor their yard.
Solution: ZipLine was used to connect the security camera on the fence to the car dealership's main building, where Internet access is located. The camera now has a very high-speed wireless connection so the car dealership owner and staff can monitor the lot on computers in the main building as well as remotely using software from their camera system.
ZipLine is an easy to install solution that we ship to you with everything you need in one box. No need to figure out extra parts you might need, no need to do anything further, just order it and install it. It installs in under 2 hours. Security companies and electricians use ZipLine because it works and it's easy to install.
Learn more about ZipLine.
Contact us to learn about how we can help connect your remote building or camera or any other device that requires a connection. We have representatives available to help you no matter where you are located.