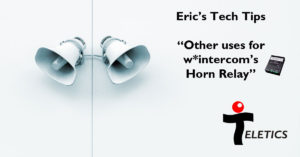 The w*intercom horn relay function can open gates
Back in 2009, when we were designing the w*intercom, we gave it a horn relay function. It didn't cost us much, and adding it allowed customers who had those loud buzzers to still use them with our equipment. It protected their existing equipment investment.
Fast forward 8 years, and now we see most of our customers just use our loud ring feature and they've stopped using their existing loud buzzers. The Teletics w*intercom's horn relay allows the customer to adjust the ring volume so the phone rings to a comfortable, audible, level.  (Their field guys don't have to remove the old socks and duct tape used to "tone down" those obnoxious loud buzzers, either.)
But this doesn't mean there aren't still a substantial number of applications for that horn relay function. At remote sites, our customers are using it for some rather unique applications. One example is to open gates or doors. Essentially, when a certain extension is dialed, the relay trips, causing some kind of action to be performed.
This, in combination with the distributed public address function of the w*intercom, can be used for security applications.  Automated warning responses can also automatically be played in situations where unauthorized access is being attempted, or even automated time of day messages for routine functions such as shift changes, or emergency situations where gas is detected.
As always, comments are welcome.
Eric Larson, Vice President Teletics, Inc.