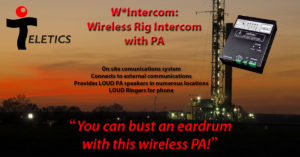 The importance of Loud Public Address
by Eric Larson, Teletics.
Those of us who have been in places where heavy equipment is operating immediately notice two things.  First, there is that preliminary sense of apprehension and second, we notice the noise that is present.  This is particularly obvious when visiting a drilling rig site.
The apprehension is our human instinct kicking in when we sense lots of things are moving that can hurt or injure us.  The noise is a problem, because it may mask other sounds that are there to warn us of possible danger.  And, the noise will probably not allow someone who is trying to help us when things go wrong, communicate will us.
Loud Public Address capability is something we have had in our drilling rig communications products for over 10 years.  The Teletics w*intercom is louder than ever – a full 40 watts of audio power in each w*intercom.  With a horn PA speaker, these systems can easily be heard any time, even in noisy environments like drilling rigs and chemical plants.
And, unlike loud buzzers that are used on some systems, you can adjust the volume the way you want it, instead of using all those socks and duct tape to bring a buzzer down to a dull roar.
These PA speakers can send out messages individually, or as a group.  So, if you want to yell at the guy over in the mud pits, you can do that.  If you want to yell at everyone, that is possible too.  All by dialing one phone number from any phone at the site.
Learn more about how the w*intercom can work on your drilling rig or work camp by reading the Teletics Application Note Drilling Rig Communications.