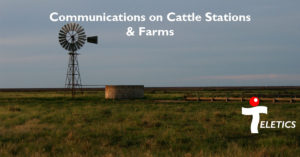 Farms & Cattle Stations
Farms and cattle stations  take note! Teletics products can solve your communications challenges in areas where trenching cable is not possible or cost effective.
ZipLine provides a turn-key solution for point-to-point, voice and internet communications between farm buildings without the need to trench cables. The ZipLine can work with buildings up to 5kms apart and can deliver phone service and/or Internet. Use ZipLine to extend Internet from your house to the barn.
ZipLine provides 1-2 phone lines and/ or an Ethernet connection between two points. It can be installed in 2 hours and ships pre-configured in a kit with everything you need. It's easy to install yourself.
W*intercom is a wireless phone and intercom system that can be used to communicate between farm buildings without the need for running cables, much like a wireless telephone system.
W*intercom can also be set up to remotely open and close gates, switching pumps/ lights/ machines on and off as well as turning off and on irrigators. Simply dial an extension to open or close a gate or turn on or off a pump/ light/ machine/ device.
Contact Teletics to find out more about how this solution can work for you.